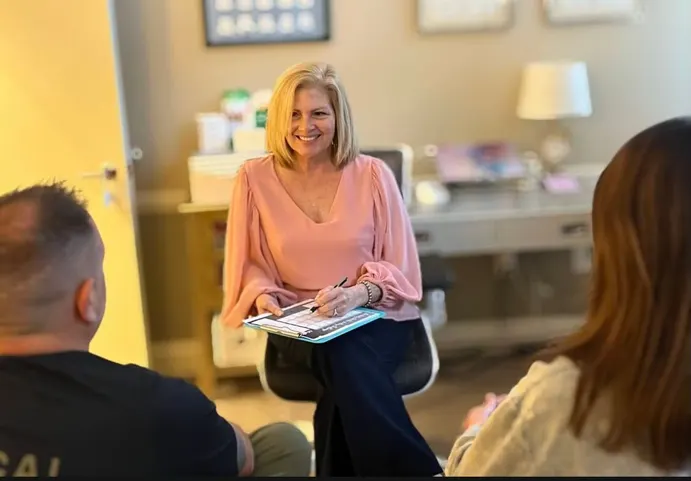 -Andrea Tang, EdS, LMHC, NCC

TWO-DAY RELATIONSHIP RETREAT

Have you and your partner participated in couples counseling for months or years yet felt as if there hasn't been much progress?
Do you feel as if you failed at counseling before or don't have time to devote months in therapy?
A Couples Retreat/Intensive - Nearly one year of therapy in just one weekend!
Have you and your partner been arguing for years over similar issues but getting nowhere?
Do you feel as if you can't even talk to one another anymore?
Has there been less sex, less intimacy for a long time?
Have you discovered a recent betrayal?
A two-day couples intensive can help you make lasting, positive changes in your relationship!
If you want to give your relationship the best final chance you can — fast… Couples intensives were designed for you to get nearly a year of therapy in just one weekend. Weekly hour-long sessions can run out of time before couples make much progress. Couples intensives allow you to make progress quickly and use what you've learned right away to build on the future you want.
With your motivation to succeed and my supportive approach, you will be able to move forward with communication tools that fit for you and your partner.
Click here to request more information:
If you have felt caught in an unhappy cycle for a long time,
You are wondering if it might be time to end the relationship, but you are not sure,
You want one last shot to really know whether to stay in the relationship,
A relationship retreat/couples intensive is the most effective choice.


What's Unique About A Two-Day Retreat/Intensive?
You won't backslide in between weekly sessions – you'll practice new ways of relating to one another in just two days.
You'll discover the missing pieces that therapists in the past haven't told you before, including how your mind is wired to keep you stuck, and what you can finally do about it.
You will practice how to ask the right questions and why. This process gets you to the heart of an issue for lasting change. This is not a quick fix… but can be a game changer.
You get a customized workbook of tools and guidelines to keep you from returning to the disappointing cycle of arguing without resolving issues, feeling less connection and more distance from your partner.
You can practice your new skills with guidance to finally break old patterns, maximizing the investment you've made in your relationship.

Click here to request more information:

How Do Couples Experience Relationship Transformation in Just Two Days?
With a structured, proven process and my guidance, you will make significant progress in your relationship. This process begins before we meet for the intensive:
First, we schedule a free 45-60 minute consultation call.
If we decide to work together, you will be asked to complete a few detailed questionnaires then return to me, so I may learn about you before Day One of the intensive. In this way, we can hit the ground running.
Over the course of two-day intensive, I will lead you through a series of tools and exercises, teaching you a method for communicating successfully about tough topics and situations.
We will meet from 9-4:30 pm with a break time for lunch.
At the end of Day Two, you will walk out of your retreat with a book full of resources to keep your progress flowing.
Last, we will schedule a follow up 90-minute session, which is included in the intensive fee.
In just two days, if you and your partner could fall in love again … what would that be worth to you?
Many clients said they felt rocked by how they felt about their partner after just one day; the increase in closeness, the increase in connection and fondness they felt for one another.
Some couples shared how quickly their skepticism for the process was replaced with personal joy because they better understood why they reacted like they did and glad to learn how to turn those reactions into positive actions.
Many partners together for 5 years or for 50 years said much the same thing, "we thought we lost the loving feeling forever and it was time to cut our losses, to file for divorce." After their retreat, they said they felt tremendous relief and an outpouring of affection for their partner, realizing they had chosen a great partner and there was no need for separation.

FAQ:
Q: Do all therapists provide marriage or couples intensives?
A: Not all therapists have the specific training necessary to work with couples or employ successful retreats/intensives. Prior to selecting someone to work with, research couples therapists and their experiences. My work is heavily influenced by Dr. Ellyn Bader, Dr. Peter Pearson, and The Developmental Model. You can learn more about that approach here.
Q: Is there a guarantee the retreat/intensive will work?
A: Yes and no. If you are motivated to learn new techniques, are ready to recognize how you each play a role in the joy and the pain of your specific relationship issues and are eager to practice with your partner after the intensive, I guarantee you significant growth. As with most things in life, what we put into something important to us is what we gain from it.
Q: What if my partner is unsure about booking a couples intensive?
A: Before booking an intensive, you and your partner will meet with me for a consultation. During that consultation it would be great to hear why your partner is feeling unsure. That way, we can better decide what couples work may feel best or is most comfortable for you both and if what I offer is the best fit for you.
Q: Can we afford a marriage intensive?
A: It is less expensive than a year of traditional therapy, and it's certainly cheaper than a divorce. In fact, many couples consider it a gift they've given each other — especially when they think about the financial and emotional costs that come with divorce.
So, the question might be – can you afford NOT to invest in your relationship at this crucial point?
My mentor of mine once shared, "if your relationship is worth seeking help for, it's worth investing in."
Q: Can a couples intensive/retreat be done virtually?
A: Yes, but meeting in person would be my first choice. Meeting in person allows for much better control over technology (yours and mine). Meeting in person allows you to get away from your usual environment. Meeting in person lets you and your partner temporarily retreat into a different world, without the usual distractions. Meeting in person makes you both the primary focus, without pets, children, grandchildren, knocks at the front door or other home-related disturbances.
Q: How can we get started?
A: Complete the request form below and you will be contacted to discuss your needs and next steps!

Click here to request more information: